Hey ya'll. Are you as cold as we are here in Utah? Three weeks of bitter cold is really making this blogger cranky. I really do love snow and winter, but can we have it just a little warmer winter please? Hmmm....
So we're staying warm with quilts, socks, slippers, and SOUP!
Do you remember the
Homemade Noodles
recipe I shared with you a while back? Well this is the chicken noodle soup recipe that goes with it. Honestly, you can use whatever kind of noodles you have for this, but the homemade ones are simply the best.
Better Than Canned Chicken Noodle Soup
Ingredients:
1lb raw chicken cut up
2 cups carrots, chopped
Homemade noodles (or 3 cups dried pasta)
Salt and pepper to taste
1/2 onion, diced
Directions:
Add diced chicken, onion, carrots, and seasoning to taste, to crocpot and cover with water. Cook on low for four hours or until carrots are tender and the chicken is done.
Add dried pasta or homemade noodles, and cook an additional hour on high setting.
That's it! Super simple, tasty, and definitely something to make frequently in this cold weather!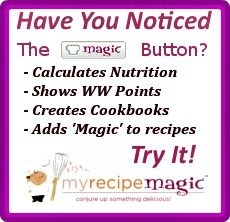 Not only does it add magic to recipes, but it's the only recipe sharing site that actually PAYS you to share your recipes! So if you have a delicious recipe that everyone always asks for or a family favorite that everyone loves, share it today and make a little extra "dough"!