Welcome Wednesday! I found this awesome blog hop just recently and thought I'd join in. This is a great way to get connected with our new Linky friends, catch up with old ones, or find brand new awesome blogs! Read on, and get your link on!
If you want to be a part of
Welcome Wednesday
, just follow these 5 simple steps:
Follow us and the Spotlighted Blog of the Week via Linky Followers and/or GFC. Adding us to your G+ circles, liking us on Facebook, or following us on Twitter or Bloglovin - any way you like to keep in touch - is awesome too!
Link up your blog name and URL with our Linky. (You only need to add your info once for it to be seen on all the blog hops.)
Grab our Welcome Wednesday button and include it in a post about the event on your blog.
Go to as many blogs on the Linky as you want and follow them. Be sure to tell them you are visiting from Welcome Wednesday!
Be sure to follow back any new followers you have gained from Welcome Wednesday!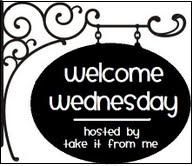 Jennifer writes: "Howdy Ya'll! I'm Jennifer, the blonde mind behind Finding My Way in Texas. Yes I'm blonde, and yes I have gotten lost a few times on the back roads of Texas, but mostly I write about fitting in to my new life, my recent marriage and my crafty adventures. Hopefully soon I'll be adding DIY Renovations to the mix :) I'm a chocolate loving, coffee addicted, book devouring, fabric hoarder! Most of the time I can be found puttering around the local thrift stores, hanging out at my favorite old-timey soda fountain shop, chained to my sewing machine or experimenting in the kitchen. I'd love for you to drop by and check out my little bit of Texas :)"