It's already the weekend again? I guess it seemed to go faster this time around because this week was a short one for us. We've both been severely ill since Sunday and most of our attention and time this week has been focused on cough drops, vapor rub, hot baths and sleep...with some feeding ourselves and dishes thrown in the mix. Hubby got so bad we had to get some antibiotics to clear out a bacterial infection in his chest. Poor guy didn't sleep for two days! I personally think he did that to steal my thunder...*wink* Fortunately we're on the mend...I hope!!!
In other news, we got ourselves a car! We are so grateful and happy! Our old one was about to give up the ghost. And because the lovely IRS is so lovely and well...awesome...we didn't get a refund this year like we were planning..which meant no new car! (Insert panic here!) Then my parents swooped in. I seriously think they need to be wearing superhero capes and like masks or something...they freaking bought us a new car! (Well, new to us!) We found one on the online classifieds that fit the bill!
We have ourselves a 1995 Buick LeSabre with 162K miles on it. It's in perfect condition. It has been driven by a high school student who just left to serve an LDS mission, and they needed to sell the car. Well they needed to sell it cheap, and we needed to buy one cheap, so all in all, it worked out! :-) So happy! It's legal, it's cute, it's comfy and best of all, we don't have to worry anymore. (Praise God!)
More super fantastic news...I gots a job! I'm going to be working for Verizon as a work at home customer service rep. I'll be troubleshooting their internets, and phones and anything else that breaks down...:-) I start on the 26th...so wish me luck!
(It will be nice to bring another income into the house, things have been a little skint since I quit Wally World back in Dec...)
And last but not least...I'm super excited about family pictures being taken this weekend! We have not had family pics taken in like six years. We've had some changes happen since then! For one, we have two new members of the family *hubs and bro-in-law* And we're about to have a new little twerp! (sister is due to birth in July!) So super excited! I'll post some of them when I get them back!
So now for the party....here are just a few projects linked up this week that caught my eye!
This fantastic
Disapearing Nine Patch
quilt comes complete with eye candy, and a tutorial! Courtesy of
Quilting by the River
! Go check it out, it's so awesome!
With weather turning from winter to spring, one thing I won't miss is the cold weather. One thing I will miss is the snow, and most fun of all, snowball fights.
Repeat Crafter Me
has solved this problem!
Indoor snowball fight
!!!
How freaking cool is this???
And last but not least a really cute fast efficient way to store some fabric while working on a project. I just love this idea because too often mine gets lost!
This
Fabric Holder from Whimsy Space
takes care of business!
Make sure to grab a button if you were featured!
It's all about the bragging rights!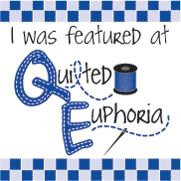 We had nearly 30 links this week! I was so happy! Let's see if we can break into the 40's this week shall we? I know you can do it!!!!


Its finally Friday! What better way to start the weekend than coming to the link party and joining in the fun? You guys continue to inspire and amaze me!
Keep it coming!

Just a few "guidelines" to adhere to...just because I'm OCD like that...

Follow Quilted Euphoria and grab my button and put it somewhere on your blog. (text links are okay too, just link back somehow)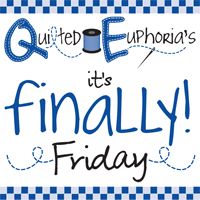 Link up a project YOU have done. It can be anything! A craft, recipe, knock off, inspirational sayings, you name it! There's no limit to links, so make sure to link up all your craftiness.
Make sure you're linking to the post, and not the main blog so we can find it!
Please, don't link up your Etsy shops, giveaways, or other blog hops. (These links will be deleted)
Hop over to the other links and show some comment love, we all love that!
Please only link up a project with us that you haven't shown off before. We want to see your newest wave of craftiness!
Most of all just have fun, and be inspired by each others craftiness!

Thanks for stopping in to party this week! Have a great weekend! :-)