Sorry about this post being so late. It's technically supposed to go up on Thursday nights, but I just got distracted with a super awesome project (yay!) and completely forgot. Better late than never, right?
So here we go! First some features of things that caught my eye this week:
So beautiful!
Grab yourself a button if you've been featured! It's all about bragging rights!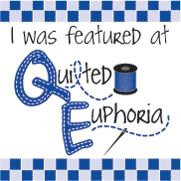 And now onto this week's party! I am simply loving the variety of creativity you guys constantly give me! Last week we had almost 30 links, lets see if we can top 40 this week?! Ready...set...LINK!!!

Its finally Friday! What better way to start the weekend than coming to the link party and joining in the fun? You guys continue to inspire and amaze me!

Keep it coming!

Just a few "guidelines" to adhere to...just because I'm OCD like that...

Follow Quilted Euphoria and grab my button and put it somewhere on your blog. (text links are okay too, just link back somehow)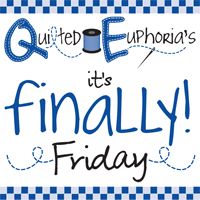 Link up a project YOU have done. It can be anything! A craft, recipe, knock off, inspirational sayings, you name it! There's no limit to links, so make sure to link up all your craftiness.
Make sure you're linking to the post, and not the main blog so we can find it!
Please, don't link up your Etsy shops, giveaways, or other blog hops. (These links will be deleted)
Hop over to the other links and show some comment love, we all love that!
Please only link up a project with us that you haven't shown off before. We want to see your newest wave of craftiness!
Most of all just have fun, and be inspired by each others craftiness!