Whew! What a week! I can hardly believe the weekend is here yet again. I've taken a break from our little party the last few weeks, not because I wanted to but because life has happened and taken me away from my bloggy friends. This week it's back on. I'm so thrilled to host this party every (almost) Friday and get inspiration from you guys.
We're almost up to 200 followers here on the blog! You guys need to come check out the blog on Monday for some awesome-filled surprises...just sayin...*wink* now onto the party!

Its finally Friday! What better way to start the weekend than coming to the link party and joining in the fun? You guys continue to inspire and amaze me!
Keep it coming!

Just a few "guidelines" to adhere to...just because I'm OCD like that...

Follow Quilted Euphoria and grab my button and put it somewhere on your blog. (text links are okay too, just link back somehow)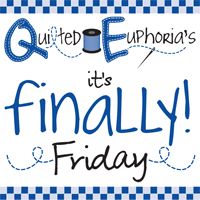 Link up a project YOU have done. It can be anything! A craft, recipe, knock off, inspirational sayings, you name it! There's no limit to links, so make sure to link up all your craftiness.
Make sure you're linking to the post, and not the main blog so we can find it!
Please, don't link up your Etsy shops, giveaways, or other blog hops. (These links will be deleted)
Hop over to the other links and show some comment love, we all love that!
Please only link up a project with us that you haven't shown off before. We want to see your newest wave of craftiness!
Most of all just have fun, and be inspired by each others craftiness!