Today I am so excited to be swapping blogs with Adrianne over at Happy Hour Projects! I'm blogging over on her adorable site, so come check in with me. In the meantime, check out her awesome tutorial below on how to make quilted heart coasters! Take it away Adrianne!
~~~~~~~~~~~~~~~~~~~~~~~~~~~~~


Hi, I'm Adrianne, and I blog over at
Happy Hour Projects
. I'm so happy to be swapping blogs with Amber today - my first projects when I learned to sew were quilts, and I still love making them. :) Amber has some fantastic ones here at Quilted Euphoria!
Over at Happy Hour, I focus on projects that can be made in an hour or less (or easily broken down into one-hour segments). Now that I'm a mom, I just don't have the same amount of time to spend working on a project that I used to - an hour a night is about all I get. But there are a lot of creative things you can do in that amount of time, and I have a project for you today that should be a fun stash-buster for all you quilters, and just in time for Valentine's Day! You can either raid your reserves to come up with some various 6 inch squares, or pick up a pair of irresistible fat quarters for this little project.
Quilted Coasters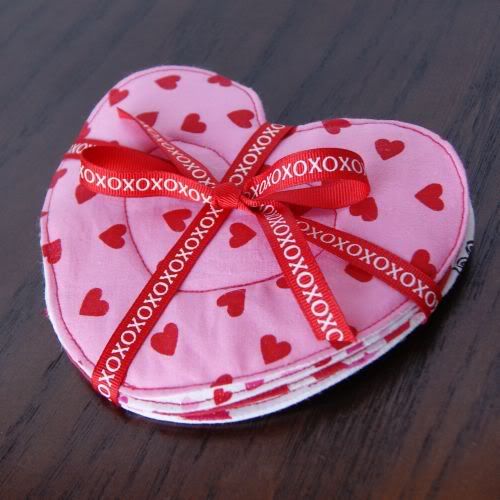 Time: 1 hour
Supplies:
Basic sewing supplies


6" squares of main fabric and backing fabric for each coaster (I made 4 in different patterns)


Batting - I used a piece about 6"x26" for 4 coasters - but any scraps that will accommodate your 6" squares will work


Iron


Freezer Paper (optional)


Disappearing Marker (optional)


Paper or Cardboard for your heart template
I know this is low-tech, but I scanned my pattern on my scanner that I am happy to share with you (you should be able to right-click on the image to save/print it for yourself). I made it about 6" wide at the widest part of the heart.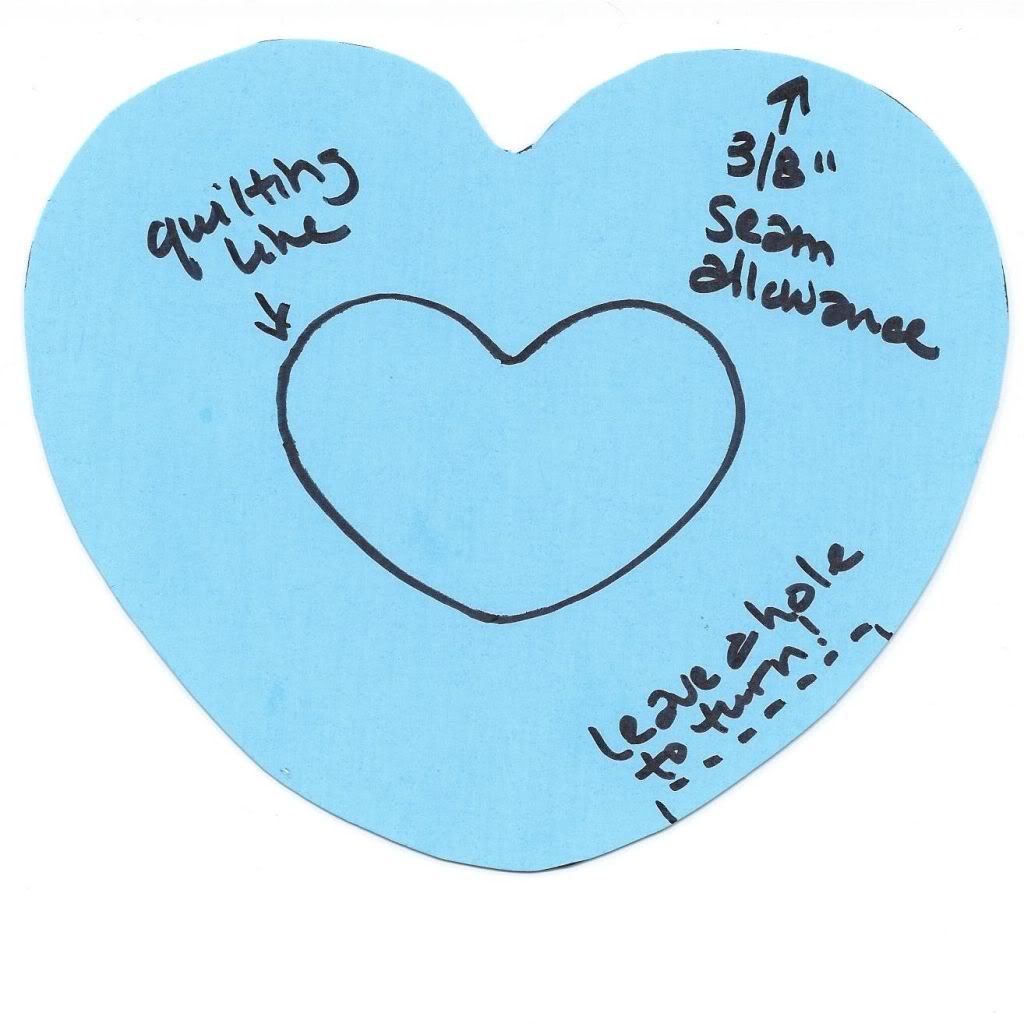 You'll notice it's more rounded than pointy. I did it that way because rounded corners lie flatter than points (believe me, I tried it the other way first, LOL!)

When I'm cutting shapes, I prefer to use a sturdy cardboard or plastic as my template, trace mine out on my fabric with disappearing marker, and then cut.
But you might like to print on a thinner paper and pin it. It's up to you - use whatever method gets you four hearts in your backing fabric, and four in your main fabric.
As you can see below, I didn't bother to trim down my batting until I stitched. You'll be trimming it down later, so you don't need to be especially careful just yet. You may notice the smaller heart and the freezer paper I have laid out (the center heart in the pattern above), and I'll address that part when we get to quilting. Just know that it's not essential to finishing the project, it's just a tip that I find to be most efficient when I am quilting a shape or area that doesn't have a natural line for me to follow.
Once all your pieces are cut and ready, stack them up for stitching. Lay out your batting, and then your backing. If your backing has a right side, make sure it faces up. Mine is white, so it doesn't matter. Layer your top piece face down on top.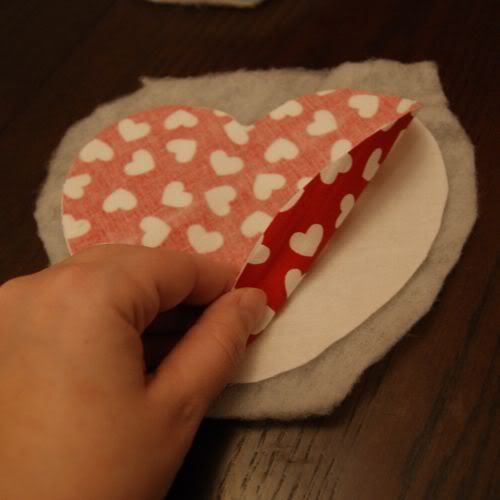 We will be stitching around the outside, and leaving a hole for turning. If you haven't done this before, I recommend you pin all the way around, except where you leave your hole.
I say this because it's really easy to forget that you had planned to leave a hole, and before you know it, you've stitched it shut and have to go back. :) The pins help you to remember!
Begin at whichever side of the pins feels most comfortable to you, and backstitch a few stitches. (If you're a new sewist, all you have to do is find the setting that runs your machine in reverse, and set a few stitches.) This locks your seam down and keeps it from unraveling when it's time to turn.
Stitch until you get to the end of your pins, and back-stitch a few stitches again. I'll show you with pins and without - take note of the hole at the right side: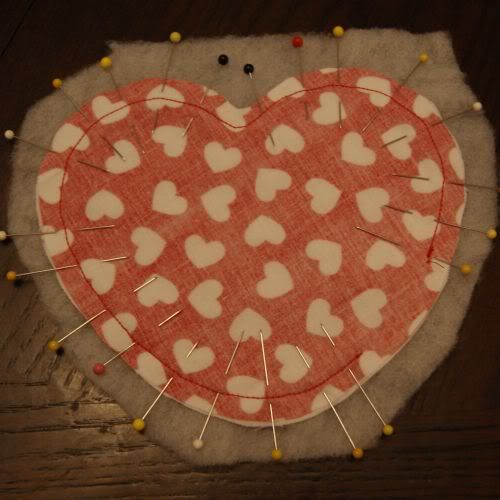 Now, because we'll be turning and stitching it again, and we want our seams as smooth as possible, we're going to trim away as much excess as possible. When you get to the area with the hole, do try to leave a little bit more than the other areas. But particularly on the curves, we want to cut away as much as we can taking care
NOT to cut the stitching
.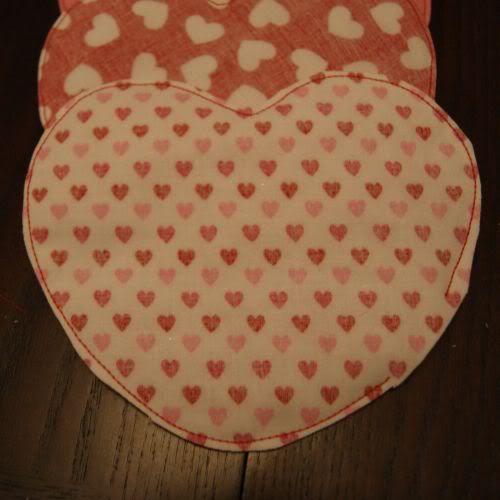 Now, turn it right-side out. Through your hole, reach in between your main fabric and backing fabric.
Push the insides out through the hole. You can use something blunt to help you out - some people use chopsticks, I tend to use a butter knife. Don't use your scissors, even if they are sitting right there. We're halfway done, there's no sense poking a hole it it now. :)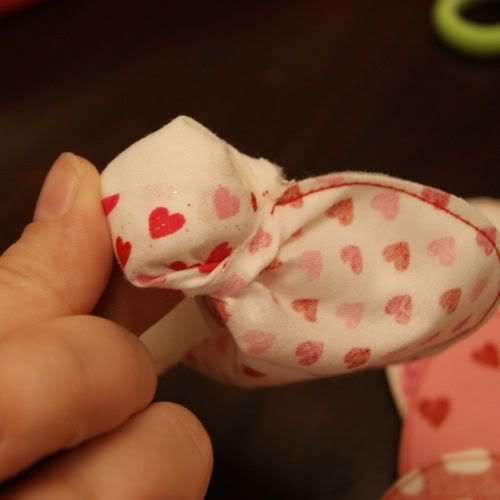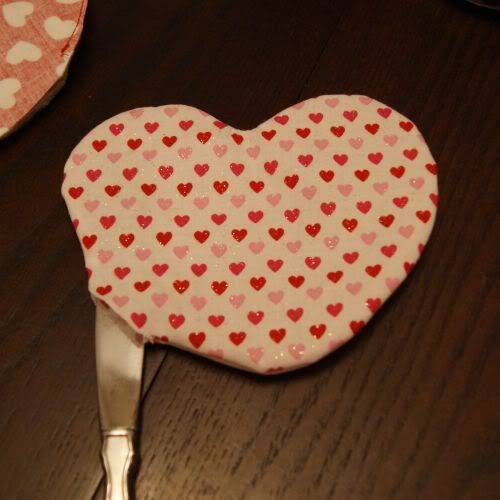 Make sure you get the edges as smoothly rounded as you can. I ran my knife all along the inside edge to accomplish this.
Now, tuck the edges of your hole inside, and pin them.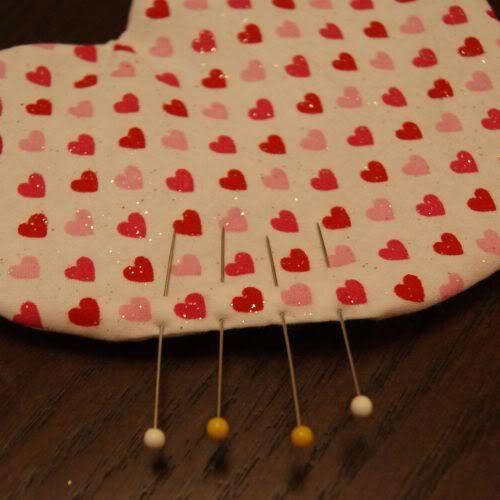 Then iron it flat. This will help it keep from puckering when we top stitch it next.
Once it's been flattened, run a line of stitching as close to the outside edge as you can without going off. This will also stitch your hole shut.
Now, you have a coaster! But, because this is Quilted Euphoria, we're going to pretty it up just a little bit more by adding a quilted design!
This is where I really enjoy freezer paper. There's a waxy side and a paper side. Trace out as many small hearts as you have coasters onto the paper side of your freezer paper and cut them out. Place the waxy side toward your fabric, and iron it on. It will stick. Not really strongly - just enough so that we can use it as our quilting guide-line in the next step.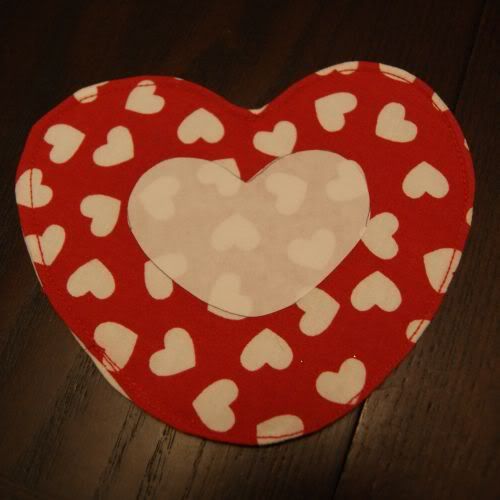 Now, stitch around the inner heart: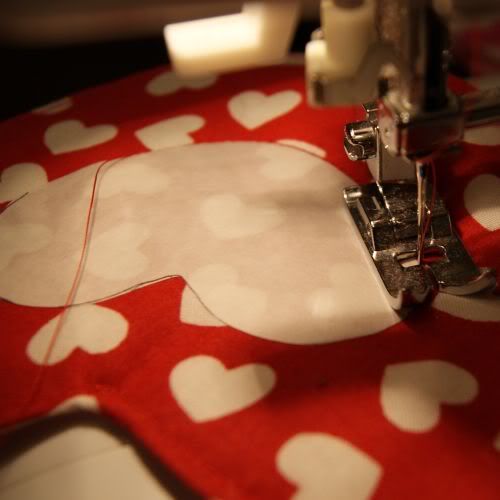 And when you're done, the paper will peel right off. :) This is a great way to quilt specific designs, or even straight lines if you can't use the pattern on your piece as a guide.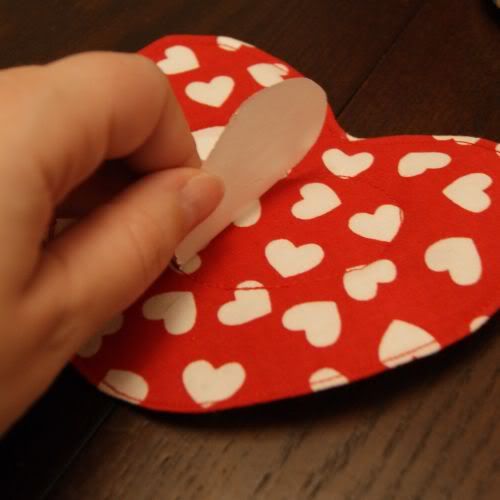 OK - that's it! Here's how my set turned out: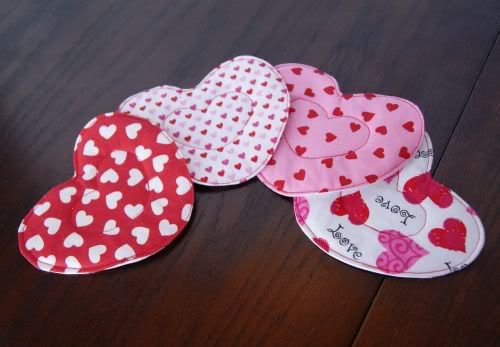 And I would love to see pictures of yours, if you make some!! Leave a comment here, or drop by
Happy Hour Projects
to come show off!
Thanks for having me over, Amber - and Happy Valentine's Day!
~ Adrianne