Wow...I know I'm a bit late in posting this, but I have a good excuse. Today was my day off from work, and I decided to spend it with hubby. We went to SLC and had all sorts of delicious fun! It was great because I haven't seen him in a while and spent any real time together. I know my personal life and quilty life shouldn't overlap on my quilting blog, but today I just couldn't resist.
It was threatening to rain, so this is his "make the rain go away" face.


Saw the SLC Temple on temple square. So pretty!
The conference center with an overshadow of rain clouds. Guess his "make the rain go away face" didn't work as well as he thought.


We had us some Chinese food for lunch. They only sold Pepsi, so I got my Diet Coke on at McDonalds! :-)


The two of us outside the Beehive House in SLC. I think this is a great picture, but I'm biased
Then on the way home this evening we picked up my newly aquired $25 gift card from
Dipidee via the Artsy Fartsy Mama giveaway!
(I never win anything! I was so excited!) So we got our cupcake on!
So onto the party. Sorry it's late, and sorry it's a text only party. But better that than nothing! I cannot wait to see what you guys have been up to this week!
Grab a button and come link up!
Follow Quilted Euphoria and grab my button and put it somewhere on your blog. (text links are okay too, just link back somehow)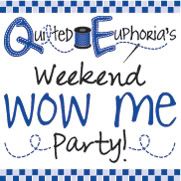 Link up a project YOU have done. It can be anything! A craft, recipe, knock off, inspirational sayings, you name it! There's no limit to links, so make sure to link up all your craftiness.
Make sure you're linking to the post, and not the main blog so we can find it!
Please, don't link up your Etsy shops, giveaways, or other blog hops. (These links will be deleted)
Hop over to the other links and show some comment love, we all love that!
Please only link up a project with us that you haven't shown off before. We want to see your newest wave of craftiness!
Most of all just have fun, and be inspired by each others craftiness!
Have a great weekend ya'll!