Whew! Did that week go fast, or what? I mean really it feels like we just started it up! This week has been kind of crazy around here. I started my new job on Saturday and have worked a couple of days already. It's taking some getting used to being out and doing instead of inside in my craftyness. However I'm loving it the more I'm there.
Our car is still not up and working but we're hoping to have that corrected this weekend. Hubby has a job interview Friday and we're hoping that it comes through. It's sounding like a good bet that it might, so keep your fingers, toes, eyes crossed for us! :-)
Because of all the craziness that has been going on around here, I don't have a new project to share with you yet. It's just been too busy to do anything more than the basics. However I do plan on getting something up really soon.
Onto the fun! I am starting to really look forward to the weekends (more than usual!) because of these parties! You guys have such great ideas and projects that you come share with me every week. I always come away inspired, and hungry!
Grab 'ya a button and let's get this party started!
Follow Quilted Euphoria and grab my button and put it somewhere on your blog. (text links are okay too, just link back somehow)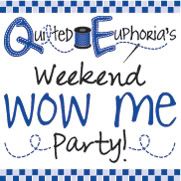 Link up a project YOU have done. It can be anything! A craft, recipe, knock off, inspirational sayings, you name it! There's no limit to links, so make sure to link up all your craftiness.
Make sure you're linking to the post, and not the main blog so we can find it!
Please, don't link up your Etsy shops, giveaways, or other blog hops. (These links will be deleted)
Hop over to the other links and show some comment love, we all love that!
Please only link up a project with us that you haven't shown off before. We want to see your newest wave of craftiness!
Most of all just have fun, and be inspired by each others craftiness!
I love you guys so much and am so excited to have you here partying with me. Have a great weekend and enjoy this fabulous fall-ish weather. Fall is almost here! Can you smell it?