Welcome to Monday!

Apparently I'm enjoying my day off a little too much as I'm just now sitting down to do this post. So it's a little late, I apologize. But I am just having way too many things to do before I sat down. (sleep...eat...drink diet coke...say hello to the hubster...ya know the shtuffs)
So we had over 25 linkups this weekend! I was so flippin happy! I sat and drooled at each one of your links for about a half an hour. HONEST! There are so many great ideas out there. I think though that I'm just enjoying my fall weather a little too much because the fall ideas just jumped out at me. So without further ado...here are the projects I'm loving this week!
As a quilter I just adore all different kinds of quilts, and this one is AWESOME!
This
AccuFall Runner by Quilting By the River
caught my eye
I love all things fall, and all things quilted, so these two dovetailed together perfectly! I love how the pinwheels are a tad poofier than the rest of it! So cute!!!
She must have been on my same wavelength because I made felt leaves and made them "fall" in my living room too! These are just so much sparklier!

Help yourself to a button if you've been featured today!
It's all about the bragging rights!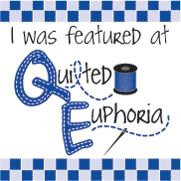 I'm getting excited because I have a couple of guest bloggers scheduled next week. My very best friend from childhood is coming to stay with me for a few days, so I'm going to turn over my blogging life to these awesome other ladies for a few days. I hope you will be as excited as I am about their posts!

Have a wonderful fall filled week! Enjoy the weather before it gets miserable! :-)

Be Calm, get your quilt on!