Hello everyone! Hope you're enjoying your Monday!I have a wonderful project to share with you later this week! I'm so excited to show you that I can hardly contain myself and not share it with you as I'm making it. It will be awesome when I finally get it done. :-)
I also wanted to take a minute to thank you guys. I'm so super busy these days with work schedules that I don't have the time to put into my bloggy life. However you guys are sticking it out with me and staying as my followers, and I'm so grateful! You guys rock my socks, inspire me and make me feel wonderful all at once. You should get super-hero capes!
So onto the features. We had a few linkups this last week that I absolutely fell in love with.
What a cute fun idea for your library totes!
Help yourselves to a button if you were featured! It's all about the bragging rights!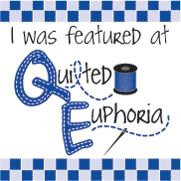 Thanks again for coming, partying, following, and cheering me on. You guys are fantastic! Have a great week ya'll!