It's the one month anniversary of my Weekend Wow Me party! I can't believe it! This party is so much fun, and it makes one more thing to look forward to on the weekends.
I am going to be getting even busier starting tomorrow. I got a new job working part time at Walmart as a cashier. (I know, I've crossed over to the dark side...) I'm super excited because it will bring in some extra $ and give me something to do in the daytime. (besides housework!) Plus I get a discount there on all my crafty shtuffs!
(Can you hear my checkbook screaming in agony over that one? It's a good thing I'm not working at JoAnn's or we'd really be in trouble!)
So if any of you are in the American Fork, Utah area, come by and say hello. Otherwise just think of me next time you're at Walmart. So here's to the weekend and partying and being busy!
A few partying guidelines
Follow Quilted Euphoria and grab my button and put it somewhere on your blog. (text links are okay too, just link back somehow)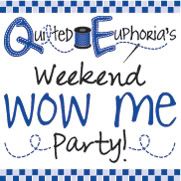 Link up a project

YOU

have done. It can be anything! A craft, recipe, knock off, inspirational sayings, you name it! There's no limit to links, so make sure to link up all your craftiness.
Make sure you're linking to the post, and not the main blog so we can find it!
Please, don't link up your Etsy shops, giveaways, or other blog hops. (These links will be deleted)
Hop over to the other links and show some comment love, we all love that!
Please only link up a project with us that you haven't shown off before. We want to see your newest wave of craftiness!
Most of all just have fun, and be inspired by each others craftiness!
I will go through all the wonderful links from this weekend and post the most clicked on, and the ones that inspire me the most, on Monday's features. So come on, link up, have fun, and most of all have a great weekend!