My
100 Fabulous Followers Giveaway
is going on right now.
Have you gotten your entries in yet? You could win a gorgeous tote bag from my Etsy shop. Ends Sunday (August 21) at midnight!
~~~~~~~~~~~~~~~~~~~~~~~~~~~~~~~~~~~~~~~~~~~~~~~~~~~~~~~~~~~~
Welcome to another weekend of link up party goodness! I can't believe it's the weekend yet again. I am beginning to understand what they were talking about when my grandparents constantly said that time is slipping by so fast. I never thought I'd understand that, but now I do! I'm starting to see all the back to schooler's out there. Part of me is really jealous because I love this time of year so much. The cooler weather, the new clothes and school supplies. Another year of learning. I hated it as a kid, but looking back I really do miss it.
We had a pretty uneventful week. Hubby and I went to spend time with my family on Monday and I
avoided
muddled through all the housework. I also got to spend some quality time with my sewing machine this week.
*Pets it*
That project is coming along quite nicely and should be ready to blog about sometime next week. So hang onto your hats!
(or whatever is atop your head to hang onto...)

This party is slowly growing, and I love it. The last couple weeks we've had over 20 linkups, so this week the goal is at least 25. Can you help me out with that? Bring on the projects man, I"m ready! I need some inspiration and motivation, what about you?
A Few Partying Guidelines
Follow Quilted Euphoria and grab my button and put it somewhere on your blog. (text links are okay too, just link back somehow)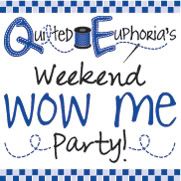 Link up a project

YOU

have done. It can be anything! A craft, recipe, knock off, inspirational sayings, you name it! There's no limit to links, so make sure to link up all your craftiness.

Make sure you're linking to the post, and not the main blog so we can find it!
Please, don't link up your Etsy shops, giveaways, or other blog hops.
Hop over to the other links and show some comment love, we all love that!
Most of all just have fun, and be inspired by each others craftiness!
Tell your friends about our party, and have them come join in the fun. The more the merrier.

I will go through all the wonderful projects and feature the ones I like the best (and the most clicked on link) at my Monday Euphoric Features! So link on up and you could be the one featured.
Have a great weekend with your loved ones. Enjoy each moment with them, and don't party too hard! (and if you do, call me, I'll bring the diet coke!)