Is it Tuesday again already??? Oh my how time flies! I love Tuesdays because of
Night Owl Crafting
and her "Hoo Are You" so without further ado....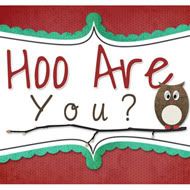 1. Do you exercise regularly and what do you do?
You know, I really should, but I don't. The only exercise I get is running away from the treadmill...does that count?


2. Do you have any weird sleeping habits?
I don't think they're weird, but others might. I have to start sleeping on my left side curled around a pillow to relax. Then end up on my back with the pillow on my stomach by the time I wake up in the morning....Wait come to think of it, that is kinda weird...
3. How often do you vacuum?
About as often as the crispy stuff on my floor starts sticking to my feet. Other than that I don't really bother with it. (I hate to vacuum!)


4.Do you accessorize and if so what is your favorite thing to accessorize with?
I really don't. I'm such a simple girl. I'm all about comfort. The only accessory that sometimes comes with me is my sunglasses, (beyond my purse) beyond that, it's just my wedding ring.
5. What is your favorite drink during the summertime?
I love homemade root beer! It's so tasty and cold! (I can't drink much of it because I have Diabetes, but it still creeps it's way into my cup!)
I love reading these so come on over and party with us!