We all have "ings" in life. We all have blogger friends. Do we all know each other's 'ings'? Now we can. Go post the 'ings' of your life this month, and come link it up. We will go, read your ings, and share ours. What a great way to get through life's 'ings'.
Let's play nice. Here's how we roll!

Follow Quilted Euphoria and grab the button to let others know that we're playing!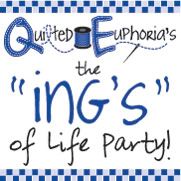 Copy all the "Ing's" below, erase my answers and put in your own. Re-post on your own blog (you can backdate it so it's not your most current if you want) and then come link it up with us. We will come visit, read your "Ing's" and get to know you a little better!

Please only link up your blog if you're participating in the "Ing's of Life" link up party.
Go read at least one other "inged" blog and show some love. The whole point of this is to get to know each other!
Spread the word and encourage everyone to come link up their "ings".
This link party is open until next month when we rinse, repeat and do it all over again. (I like redundancy)

~~~~~~~~~~~~~~~~~~~~~~~~~~~~~~~~


Making :
A list of all my new blogging ideas. They are many...
Cooking:
*chuckle* Yeah...that's happening
Drinking :
Crystal Lite (okay the generic walmart imitation, but it tastes the same and is so much cheaper!)
Reading:
Currently "Blood of the Fold" by Terry Goodkind. I am a Richard and Kahlan freak!
W
anting
:
An Amazon Kindle...or an Ipad, but the Kindle we can afford (for Christmas?) Maybe...someday...
Looking
: At how I can afford the aforementioned reading device
Playing
: With my hair
Wasting:
Time on blogger when it's the weekend and gorgeous weather
Sewing:
Just finished sewing my
"Wash, Brush, Flush"
sign last night. Thinking up new projects
Wishing:
I had a million dollars. Yeah that would be nice right now
Enjoying:
The weekend with nothing to do
Praying:
That our job holds on and we can get ahead...(I'm tired of running behind, aren't you?)
Waiting:
For payday! (and thereafter, date night! I could really use a date with hubby right now)
Liking:
Pinterest
. It never ceases to suck me in
Wondering:
When I'll get that million dollars...*daydreams* cough...sorry I'm back...
Loving:
My husband. He's just so darn adorable
Hoping:
I can have dinner with some friends soon. I'm starved for some company!
Marveling:
That I have 70 (+) followers on this little blog! Never thought I'd get 7, let alone 70!
(THANK YOU!!!!!!!)
Needing:
A bubble bath and a diet coke. Maybe not together, (there's a mental image...)
Smelling:
The warm summer breeze through my window
Wearing:
A tank top...it's old, has holes in it, and has stains everywhere, but it's so darn comfy!
Following:
A lot of different blogs that I can barely keep up with. It's a sickness really...
Noticing:
That my office is messy. Will I clean it? Yep...when that million dollar check arrives
Knowing:
It won't. *points up*
Thinking:
of doing a giveaway of my own on my own blog *ponders*
Bookmarking:
The book I was reading before I got onto blogger today.
Opening:
A link party so we can all do this. It's fun!
Giggling:
At
Kimbo's post
where I got this idea from to begin with.
*Waves to Kimbo*
Feeling:
Very blessed to have the things I have, and trying to ignore the down side.
A nod and a big thanks goes out to
Kimbo
for putting this up to begin with. Check her out at
"A Girl and a Glue Gun"
. She makes me giggle, (oh, and has awesome projects too)
So what are your "ings'' this month?