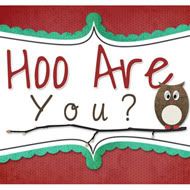 1. Do you prefer to use a regular pencil or mechanical pencil?
When I use pencils (which isn't often) I prefer a mechanical one.
2. What is your favorite color in the crayon box?
I think my favorite color would have to be violet or just plain blue.
3. Bottled glue or glue stick?
Oh Glue Stick, most definitely glue stick
4. calculator or do it in your head?
If it's easy math, then in my head. When you start doing complicated stuff, most definitely a calculator or we're in trouble
5.Favorite subject while in High School?
English. I loved it!
I party here