I"m a guest poster today over at All Things Free. Go check it out and get yourself hooked up with the free diaper bag tut! I promise, it's cute and you'll have fun...
(well the having fun part I can't promise, but the cute I can!)
I'm currently cooking up something awesome to post here. I promise, it's cool. (Really...I do!)
~~~~~~~~~~~~~~~~~~~~~~~~~~~~~~~~~~~~~~~~~~~~~
I love that it's Tuesday again, because that means it's time for
Hooo Are You?
With
Night Owl Crafting.
Here are this week's questions!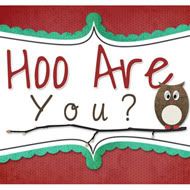 1. If you could choose one of your personality traits to pass on to your children, what would it be?
I guess probably my passion for the things in life that get me fired up. I love that I am like that.
2. What's your favorite candy bar?
Right now there's a debate between the Take 5 and the Payday...I'll let you know who wins.
3. If you could vacation anywhere in the world, where would it be?

Europe. I so badly want to see what they have over there!
4. What 3 adjectives would you use to describe yourself?

Funny, Passionate, Introvert
5. In one word, how would your best friend describe you?
Loyal.
I hope you had as much fun with this as I did! Come back tomorrow for the best surprise I've ever featured! Have a great Tuesday!
I party here