Can you believe it's Monday already? Where did the weekend go?

I want to just tell you how incredibly excited I am today. Over the weekend I had 20 (+) linkups to my very first link party! That's not bad for the first time out! I was hoping to get at least 10, and once again my
AMAZING
followers outdid my expectations. Get ready to be wow'ed I've got some talented peeps stalking me! (I wouldn't want it any other way honestly!)
Grab yourself a button if you've been featured.
(It's all about the bragging rights!)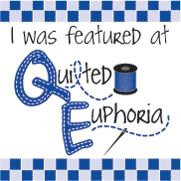 I am in love with this Chalkboard wall from Vanilla Bean.
So Handy and decorative too! (I want one just to doodle on!)

These Kitchen Canisters from Ginger Snap Crafts need to come to my house and live.

It would make my counter not look so redneck!

This Crayon Holding Apron from Crafting with Chiari is simply too cute for words!
I think I need one of these for me!
A great big thank you goes out to everyone who linked up this week! I loved seeing everyone's projects, and being inspired! If you were featured today remember to grab a button for bragging rights! (Button, button, who's got my button?)
I really hope you guys will come back next week and wow, inspire, and wow me some more with our next link party! :-)

PS. I have a new feature going on here. It's a new "getting to know you" kind of link party. Go check it out and come link up, going on all month!
(I foresee being slightly addicted to link parties in the not so distant future...)