"...Rainy days and Mondays always get me down..."
---Karen Carpenter

Well not always, but Mondays and I definitely don't get along. Except this is the bright spot in our Monday's. I love features day! :-)
Thanks to everyone who linked up this weekend! We had nearly 20 projects shared and I was so inspired by all of you it was hard to just chose a few.
This week I am loving these projects:
Rag Love By Finding My Way in Texas.
I just finished my own rag quilt and was loving her scrappy creation!
So warm and snuggly!
Jacque's Soda Parlor shared this awesome tut for a No-Sew Fleece blanket.
This is my kind of project!
So easy, and so cute! (going on my to-make for Christmas presents list!)
Happy Hour Projects shared with us this great tut on a baby blanket.
I love the ric-a-rack on the edges. I need one for me!
She also showed us how to man-craft this week.
This football wreath is so awesome !
I love it because I was getting on the wreath bandwagon, but all the ones I've seen while beautiful are just too "Perfect" for our family and our personality. This one however with all it's scraptacular-ness (yes that's a word!) is just perfect! It's going to be making an appearance in our household this football season. (with Titans colors of course!)
Can you tell I've got fall and cooler weather on the brain? Those blankets all looked like they needed to come take a nap with me, and the football wreath because it's the start of
widow
football season.
Help yourself to a button if you've been featured! Soooo many fun projects were linked up!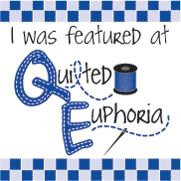 This weekend has not been the restful weekend I was hoping for. Our car is sitting in our front yard doing it's best impression of a paperweight. I started work on Saturday and go back Wednesday so I'm starting to worry a tad about how to do the transportation thing. However I feel that we'll get it all solved and be back on track shortly.

I am working on a super incredible project, but it's going to take a while because of life, and the fact that to make it super incredible, it takes time! I promise it will be worth the wait though.
(at least I think it will be...)
I'll see if I can insert a semi-super incredible project in here in the meantime though!
Everyone have a great week and don't party too hard without me!