It's Monday again! Gosh darn it, that weekend went way too fast. I guess I will have to get used to having my weekend in the middle of the week though. Hubby's work schedule is soon to change and our "Weekend" will be Tuesdays and Wednesdays...so I guess I will have to adjust!
This week's link party was awesome! We had once again over 20 linkups this weekend! Thank you so much to everyone who linked up. I loved seeing everyone's ideas, creations, rants, blogs, ideas and recipes! (you guys seriously made me hungry and crafty at the same time...not usually the best combo!)
Grab yourself a button and pat yourself on the back if you've been featured!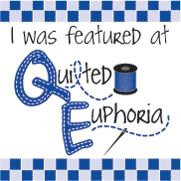 Here's just a few things I loved this weekend from all the fabulous link ups!

I LOVE this Quiet Flip Book from Artsy Fartsy Mama. I seriously need one for me when I go to church to keep me occupied. (heck just church? I need this with me EVERYWHERE)
This pizza casserole from For Mamas is making me hungry...Seriously go check it out, easy peasy and looks so tasty!
And of course I'm suckered into anything quilty. This little Sofia's Quilt by Sew Much 2 Luv makes me want to cuddle up with it! It's so adorable and she did a great job on the applique. (Kinda makes me feel unworthy...)
Even More Exciting News...
I'm also announcing the winner of my U-Printing giveaway! The winner was chosen with random.org....and the winner was...
Mindie over at Bacon Time!
Mindie left me this fabulous message!
Congratulations! I've got your info so I'll be contacting you about your prize shortly!
Oh one more thing...

(I know, I'm just that awesome)
ANOTHER GIVEAWAY!!!
That's right ya'll I'm just pouring forth good things for you!
Mindie over at Bacon Time
(I promise her winning was coincidence!)
is hosting this one up for me, so head over there and check it out! You could be the winner of a $10 Etsy shop credit and free shipping to anything in my Etsy shop! Also if you come back here and tell me that Mindie sent you, I will email you a code to get 15% off your entire purchase at my shop. To ANYONE! Go check it out right now. That's right, I said NOW!
(I get bossy on Monday's...sorry, tomorrow will be better...I think...)
Ready, Set, Have a Great Monday!