Whew, we're just giving away all kinds of things, all over blogging land lately! It's an exciting time in my little blog's life! We're nearly up to 50 fantastic followers! Thank you guys so much, you inspire me.
So today's giveaway is being hosted over at
Doodles and Doilies
. Erica is so fun and I am happy to announce this giveaway over there. Today we're giving away a $10 credit plus free shipping to my
Etsy shop
to one lucky reader! Plus, everyone can get 15% off of everything in my store!
So go check out her
blog
, become a follower, and enter this wonderful giveaway.
And now it's time again for Hoooo Are You? Hosted by
Nightowl Crafting!
I love Tuesdays, she has the most awesome questions! So here we go!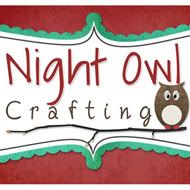 1. What is your favorite craft or type of craft and if you are a crafter
how did you get into it?
Well let's see. I'm a quilter, and quilting is a form of crafting, right? So there's your answer! :-) And I got into it when I was around 19. I made my very first quilt out of leftover pioneer dress fabric, and then the sickness caught on after that.
2. What shows have you been watching this summer?
Well, Wipeout for sure. And nothing else really. My regular shows are in re-runs so I don't watch a whole lot of TV when they're not on. (except wipeout!)
3. Who does the yard work at your house?
The Landlord!
4. Are you working on any projects inside the home or outside this week?
Not especially. Unless you call keeping up with the dishes a "project"...and I do


5. Do you have to worry about getting ready for back to school?

Only when I'm driving so I don't run them over! I have no kiddos of my own...yet...so right now I'm back to school stress free. That is apt to change in the future I guess.
So I have a wonderful (I think it's wonderful) project going on right now and I can't wait to post it for you all to gaze upon. Until then have a great Tuesday!