First of all I want to say thank you to my wonderful little followers. I am so happy that you decided to join my
disjointed ramblings
thoughts on quilting, life and all things crafty...
And now I am so thrilled to announce my very first giveaway! I am giving away a PDF copy of my
Kitchen Sink Beach Bag
to the lucky winner!
Plus free shipping on everything in my
Etsy store
by using the coupon "blogloyalty". How sweet is that?
My wonderful friend Rebecca over at
My Girlish Whims
is hosting this giveaway, so you should head on over and check her out! She has the cutest blog, and the most adorable things listed in her
Etsy store
. Today she had a post about all her different shoe styles, which is so awesome. She loves Jelly Shoes and I was addicted. So much in common guys! Definitely go check her out, and give her some comment love as well.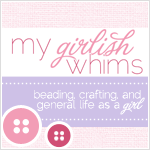 So head over, become a follower (of one or both of us!), and enter to win the very first (of many) giveaways coming from Quilted Euphoria.
Hope to see all of you enter! :-)