The Blog Guidebook
has issued us a challenge. "Where is your blogspot." Basically asking us to post some more behind the scenes type pictures of where we sit to do our blog. I thought this was a fabulous idea, so I decided to jump on board.
I started doing this blog a little over a month ago, but I've been a blogger for most of my life. It came in particularly handy while living across the country from my family. It was a good way for them to see what was going on in my life, without a daily phone call. This blog I started for the purpose of posting about my quilting passion. I want to get other inspired to do something quilty!
So here I go...this is my blogspot!
I have two distinct places that I hang out in my house on a daily basis. One is my sewing area. This is where the quilts come together, or I end up crying over them..

.

We recently moved in the last couple of months and as a result of that, I still have not set up my quilting area the way I would like it to be. I have been too busy unpacking and then I got the call for my sister's wedding and got started on her quilt. So this is the stripped down "raw" area if you will.
Most days, this is the view I have. When sitting in my quilting area, I have a good view out the kitchen window, of the TV, and the dirty dishes! My quilting area is the back half of my living room. (You work with what you have!)
My second area is where I sit to do my blogging. This is my fabulous office. It's not much yet because of the move, but I love it. I am coming from having my quilting and blogging in a living room and now I have two seperate spaces. It's fantastic! This room is bright and I can hear the birds out the open window!
This is the desk where the blog comes to life. I've got my Scentsy going most days...and a cup of Sobe Lifewater to keep my hydrated while the blogging is happening.
While it's not much, I call it mine. I love it, and I want to thank you all for reading and following me! See you in the bloggersphere!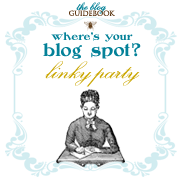 Hope to see your link at
The Blog Guidebook
along with mine!